TV Dinners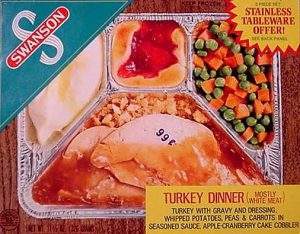 How many of you remember TV dinners? While I can certainly remember them, how popular they became, and other innovations they brought to our lives, they were never a big item at our household. Oh don't get me wrong, my family tried them but their popularity was short-lived in our home. Perhaps it was their size (it took at least two of them to satisfy my father's hunger), or maybe it was the cost which, although only 98 cents each, severely strained my parents' very modest food budget. But I think the biggest reason was the limited selection from which to choose. I mean, how many times a week do you want to eat turkey, roast beef, or Salisbury steak?
One of the biggest changes TV dinners brought to our home was the divided aluminum trays, which we were mandated to wash and save so my mom could reuse them to plate her mouthwatering home-cooked meals, meals which we ate off of cheap, rickety folding TV tables, while watching Ozzie and Harriet and I Love Lucy on our 21-inch Magnavox table model television in glorious black and white.
Although it was the Swanson Company of Omaha, Nebraska who coined the name "TV dinner," they were not, as many people think, the inventor of the frozen meal. Utilizing the freezing technique invented in 1925 by Clarence Birdseye, the first precooked frozen dinners called Strato-Plates were actually developed in 1945 by Maxson Food Systems for the airlines. Unfortunately, William Maxson's untimely death two years later prevented his company from offering those meals to the American consumer.
Next on the scene was the Bernstein brothers, Albert and Meyer, who in 1949 created Frozen Dinners, Inc. They sold their frozen meals in a custom-made three-compartment metal tray under the One-Eyed Eskimo brand name. Initially the Bernsteins only marketed their brand in the Pittsburg area with 1950 sales of slightly more than 400,000 units. In 1952 the brothers formed Quaker State Food Corporation, expanded their market area, and by 1954 they had sold over 2,500,000 frozen dinners.
Enter the Swanson Company who, with their already well-established brand name, successfully brought frozen meals to homes nationally. On this, food historians agree. They also seem to agree that the creation of these meals was brought about as the solution of what to do with 260 tons of frozen turkeys the company had over-purchased for the 1953 Thanksgiving season—turkeys that were stored in refrigerated railroad cars traveling back and forth across the country to prevent their spoilage. (It seems that refrigerated cars at the time only worked if the cars were moving.)
The controversy associated with the Swanson's story lies not in the resolution but in exactly who's idea it was for finding their way out of their turkey dilemma.
For years the accepted story was that Gerry Thomas, a Swanson & Sons salesman, was the brainchild behind the whole idea. Thomas suggested they fill aluminum trays similar to those used by Pan Am Airways with a turkey dinner complete with cornbread stuffing, gravy, buttered peas, and sweet potatoes. In fact, the story was so popular that Thomas was honored by the American Frozen Food Institute's "Frozen Food Hall of Fame" as the TV dinner's creator. He was also credited with coming up with the name "TV dinner."
Betty Cronin, who at the time was a 21-year old bacteriologist and the Swanson employee charged with figuring out how to reheat the dinners evenly and safely, asserted that it was actually the sons Gilbert and Clarke Swanson who were the inspiration. They then turned to their marketing and advertising teams of which Thomas was part of to develop the name and sales strategy for introducing the product.
Regardless of who was the actual inventor, the fact is that the Swanson TV dinner was an immediate success. Introduced on September 10, 1953 at a price point of only 98 cents each, Swanson's first year sales exceeded 10 million units, and 25 million the next.
With such a success, it didn't take long for Stouffer's (1946), Banquet, Morton's, and others to join in with their own versions of pot roast, Salisbury steak, and fried chicken dinners, eventually making the frozen meal industry worth several billion dollars annually.
While the term "TV dinners" went away in the mid-1960s, Swanson remains a prominent player in today's crowded frozen meal market with its Hungry-Man and Sports Grill line of dinners. And for those who perceive these larger more manly portions of chicken, pork, and beef dinner choices a bit too unhealthy, there is always Lean Cuisine's "low calorie" dietetic choices.
Another thing that has gone the way of TV dinners is the low price. Today's frozen meals cost an average of $3 to $4 for a single entree and as much as $10 to $12 for a "family size" dinner.
So next time you don't feel like cooking dinner, you might consider picking up one of these frozen "delights" to pop into your microwave. Oh, did I forget to mention that today's frozen meals come in microwavable containers? Yeah, the compartmentalized aluminum tray is no longer available.