Ricotta Ice Cream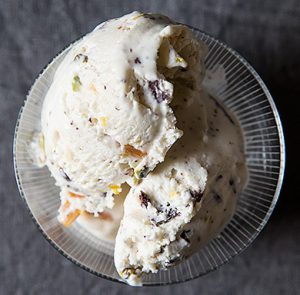 This is my youngest son's favorite ice cream.
Recipe makes 1 quart
<strong)Whatcha Need:
2 cups ricotta
1 cup half-n-half
1/2 cup sugar
1/4 cup honey
1 teaspoon grappa, kirsch or vanilla extract
Optional Ingredients:
1/2 cup semisweet chocolate chips
1/2 cup chopped candied citrus
1/2 cup chopped pistachios
Whatcha Do:
Combine the first five ingredients in a large bowl and blend well.
Pour mixture into your ice cream maker and freeze according to manufacturer's instructions.
Add one or more of the optional ingredients 10 minutes before the end of freezing process.