Nestlé Toll House Chocolate Fudge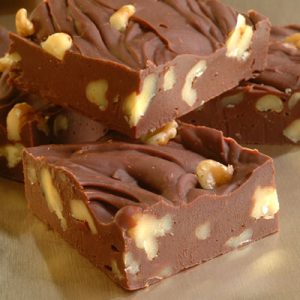 Sometimes the simplest recipes yield the richest results.
Recipe makes 24 pieces
Whatcha Need:
2 cups (12-oz. pkg.) NESTLÉ® TOLL HOUSE® Semi-Sweet Chocolate Morsels
1 can (14 oz.) sweetened condensed milk
1 cup chopped walnuts
1 teaspoon vanilla extract
Whatcha Do:
Line 8- or 9-inch square baking pan with foil.

Combine morsels and sweetened condensed milk in medium, heavy-duty saucepan. Warm over lowest possible heat, stirring until smooth. Remove from heat; stir in nuts and vanilla extract.

Spread evenly into prepared baking pan. Refrigerate for 2 hours or until firm. Lift from pan; remove foil. Cut into 48 pieces.