Dutch Baby Pancake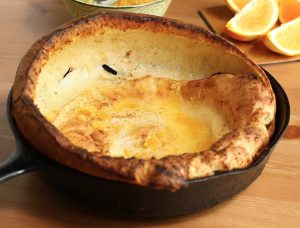 These large, fluffy pancakes are excellent for breakfast, brunch, lunch or dessert at any time. And they comes together in about five blessed minutes.
Recipe serves 4 - 6 people
Whatcha Need:
1 cup all-purpose flour
1/4 cup sugar
1/2 teaspoon salt
3/4 cup whole or 2 percent milk
4 large eggs
1 teaspoon vanilla extract
3 tablespoons unsalted butter
Powder sugar
Whatcha Do:
Heat the oven to 425 F. Place a 9- or 10-inch cast-iron skillet or other similarly sized oven-safe pan in the oven as it heats.

Combine the flour, sugar and salt in a food processor or blender, and pulse several times to combine. Add the milk, eggs and vanilla, and blend continuously for 10 seconds. Scrape down the sides, and blend continuously for another 10 seconds or until there are no more lumps and the batter is frothy. Let the batter stand in the blender for 15-20 minutes to give the flour time to absorb the liquids.

Drop the butter into the warmed skillet and return the skillet to the oven until the butter has melted, 2-3 minutes. Blend the pancake batter again for a few seconds to froth it up. Remove the skillet from the oven, pour the batter straight into the skillet without stirring, and place the skillet back into the oven. It's normal for the excess butter from the pan to pool on top of the pancake batter.

Bake 20-25 minutes, until the Dutch baby is puffed and turning dark golden brown on the ridges. Dust with powdered sugar and cut into wedges. Serve with maple syrup or warmed fruit.
Variations:
Strawberry Shortcake Dutch Baby: Simmer 2 cups fresh or frozen strawberries with 1/4 cup sugar and 1/4 cup water for 5 minutes. Spoon over baked Dutch baby and top with whipped cream.

Tropical Fruit Dutch Baby: Simmer 1 cup chopped pineapples and 1 cup chopped mangos in a saucepan with 1/4 cup sugar and 1/4 cup water for 5 minutes. Pour over the baked Dutch baby and sprinkle with toasted coconut.