Stained Glass Stars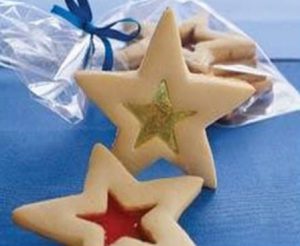 Stained Glass Cookies are a Christmas classic. Sugar cookies are cut out in the shape os stars and filled with crushed Life Savers. As the cookies bake, the candy melts, creating a stained glass effect.
This recipe make approximately 4 dozen cookies.
Whatcha Need:
1/2 cup (1/4 lb.) butter or margarine, softened
1/2 cup sugar
1/2 cup honey
1 egg
1 teaspoon vanilla
3 cups flour
1 teaspoon baking powder
1/2 teaspoon baking soda
1/2 teaspoon Salt
5 rolls (1-1/4 oz. each) fancy fruit candies such as Life Savers
Whatcha Do:
Beat butter, sugar, honey, egg and vanilla in large bowl with electric mixer on medium speed until well blended. Add flour, baking powder, baking soda and salt; mix well. Cover. Refrigerate at least 2 hours.

Place dough on lightly floured surface; roll out to 1/4-inch thickness. Cut into desired shapes with 2-1/2- to 3-inch floured cookie cutters. Trace smaller version of cookie shape on dough leaving 1/2- to 3/4-inch border of dough. Cut out and remove dough from center of cutouts; set aside to re-roll as needed. Place cutout shapes on baking sheets lined with foil. Repeat with reserved dough.

Crush each color of candy separately between 2 layers of wax paper with mallet. Spoon crushed candy inside centers of cutout cookie shapes.

Bake at 350°F for 6 to 8 minutes or until candy is melted and cookies are lightly browned. Cool cookies completely before removing from foil.
NOTE:
Cookie dough can be wrapped airtight and refrigerated for up to 1 week or frozen for up to 3 months