Browning Heights Burger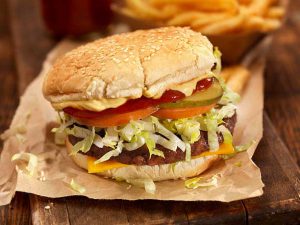 This is how the author was taught to make hamburgers by owners Charlie and Phil, at the Haltom City Drug & Hardware where I worked summers and weekends at the age of twelve years. If you don't have a griddle to cook on, the same results can be accomplished using a large cast iron skillet. The secret to a juicy burger is using 75/25 ground beef. The additional fat in the meat will result in a juicier, more tasty burger.
This Recipe Makes 1 Burger
Whatcha Need
1/3 pound ground beef
salt/pepper to taste
1 large, plain hamburger bun
1 tsp prepared mustard
1/4 cup shredded iceberg lettuce
1 tablespoon chopped onion
1 thinly sliced tomato
3 hamburger pickle slices
1 slice American cheese (optional)
Whatcha Do
Form the ground beef into a patty that is about one-inch wider than the hamburger bun and season both sides with salt and pepper. Preheat a cast iron skillet to medium/high heat and cook the meat for 3-4 minutes on one side. Turn the meat and place the bottom bun, open-side down, on top of the meat (if you want cheese, place it the meat before the bun) and the top bun, open side down, on top of the bottom bun. This allows the buns to heat while the meat is cooking.

After 1-2 minutes remove the top bun and spread with mustard. Place lettuce over the mustard and onion over the lettuce. Arrange the pickles on the onion and then the tomato slice. Remove the meat and bottom bun from the skillet and bring the two halves of the burger together. Serve with French fries and your favorite beverage.