The Gingerbread House, a Christmas Tradition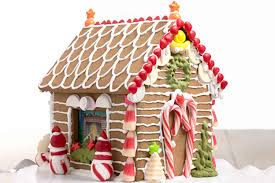 There are few things more synonymous with Christmas than the gingerbread house. But did you know this tradition got its start from a famous fairytale?
First cultivated in China some 5,000 years ago, ginger root was thought to have been initially used for medicinal purposes. Later it was used to season and preserve breads. It was also used to mask the smell and taste of cured meats. From the Middle East, one legend has it that in 992 the Armenian monk and saint, Gregory of Nicopolis (Gregory Makar), brought gingerbread to the northern French of Pithiviers where for seven years he taught baking ginger flavored breadstuffs to other priests and Christian bakers.
Gingerbread as we know it today began appearing in Europe during the 15th century. This was especially true in France, England, and Germany. And by the late 1400s bakers had begun shaping gingerbread into all sorts of figurines such as hearts, stars, animals, and religious items which were sold in shops and markets. In fact, gingerbread figurines and trinkets were so popular that gingerbread fairs were organized for the express purpose of sampling the popular confections.
It is believed that in the 16th century Queen Elizabeth was the first to have gingerbread man cookies made in the likeness of visiting dignitaries to which she presented them as parting gifts.
In the early 19th century Germany, well decorated gingerbread houses became popular following the 1812 publication of the Brothers Grimm fairytale Hansel and Gretel. And while their popularity didn't catch on in Britain, gingerbread houses were well received in the rest of Europe, a Christmas tradition that was brought to America by the Pennsylvanian German immigrants.
Today making gingerbread houses in America remains extremely popular, not only as a traditional holiday family activity but commercially, as well as rival stores, hotels, schools, and civic organizations compete to see who can construct the largest and most elaborate.
On November 30, 2013, the Traditions Club in the small town of Bryan, Texas set a new world's record for the largest gingerbread house in order to raise funds for a new hospital trauma center. It took 7,200 pounds of flour, 2,925 pounds of brown sugar, 68 pounds of ground ginger, 1,800 pounds of butter, and 7,200 eggs to build the 2,520 square foot house.
In 2017, sous chef Jon Lovitch of the New York Marriott Marquis hotel set the world's record for the largest gingerbread village for the fourth year. The editable town had 135 houses and 22 commercial buildings, complete with gingerbread people, cars, and even a train.
Interested in making your own gingerbread house? Wilton, America's largest baking products company, makes gingerbread house kits available at retail department, hobby and crafts stores nationwide. For those of you with a bit more skill in the baking arena, recipes and templates are available on a number of online web sites including my favorite shown below.
How You Make Em