Mayhaws: The Revival of a Once Forgotten Fruit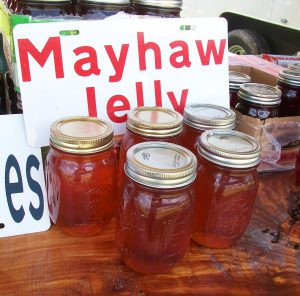 A few months ago, while visiting with some ladies at a local retirement community, the discussion turned to homemade jellies and the fruits from which they're made. One of the women, born and raised in Louisiana, mentioned that her all-time favorite jelly was mayhaw, a fruit that until then I had never heard of. By the end of our visit, she had promised to bring me a jar the next time she went to visit her sister.
The mayhaw is a native American fruit tree that grows in shallows along rivers, in creek bottoms, and bayous throughout the southern United States. Largely ignored by early botanists, explorers, and even native Indians because of their
bland taste and difficult-to-reach locations, the berries produced by this thorny tree are most often collected out of the water from boats and used primarily to make jelly. The fruit's short season, late April through May (giving it its name, may-haw), is likely another reason for its previous lack in popularity.
Today, thanks to renewed interest in forgotten native American fruits, and due to improved biological techniques, mayhaw trees have become highly desirable
with gardeners not only for cultivation but for ornamental applications as well. And although native mayhaw trees are armed with an abundance of thorns, some new thornless varieties have been developed.
Mayhaws are closely related to apple, pear, and crabapple trees. In fact, the rootstock of mayhaws have been successfully used to produce dwarf varieties of those trees. The highly fragrant blooms of hybrid mayhaws develop in February and March, much earlier than most other fruit trees. By May, the mayhaw's red fruit, growing in clusters much like cherries or muscadines and about the size of olives, ripens. Its creamy white flesh varies in flavor from bland to
bitter to mildly sweet.
Once mayhaws were known only as thorny hawthorn trees producing floating red berries that had to be scooped up from boats using nets. Today there are a number of commercial operations throughout the South growing fruit for jelly and other mayhaw products. There are also backyard gardeners in almost every state proving that mayhaw production is not limited to swamps, marshes, and creek beds, but can be grown on high ground as well.
Last week, my Louisiana friend returned from a week visiting her sister, and with her she brought two quart-jars of homemade mayhaw jelly--one for her and one for me. The very next morning I made a batch of hot buttermilk biscuits and took them to her table where she, her tablemates, and I shared my jar of jelly. And I must say, I'm hooked. Mayhaw jelly is one of the best culinary treats I've ever experienced. You've got to try some.
Buy Em: Texas Wild Mayhaw Jelly, Roanoke, TX; The Old Mill Mayhaw Jelly, Pigeon Forge, TN; Stripling's Wild Mayhaw Jelly, Cordele, GA
Make Em: Mayhaw Jelly