Appalachian Sawmill Gravy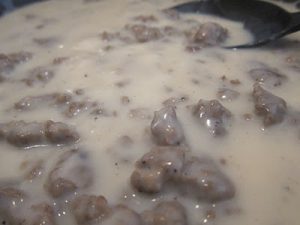 This is an old recipe said to have come from the cook of a well known nineteenth century Appalachian logging camp.
This recipe will serve four hungry people.
Whatcha Need:
1 pound mild sausage
3 Tablespoons flour
2-1/2 cups milk
1/2 teaspoon salt
1/2 teaspoon black pepper
Whatcha Do:
Fry sausage in a large iron skillet. Remove meast and all but 1 tablespoon for the dripping. Slowly add flour and stir until smooth. Slowly add milk and stir until smooth. Stir in salt, black pepper. Crumble in as much of the cooked sausage as you want. Serve over hot cathead biscuits.