Old-Fashioned Macaroni and Cheese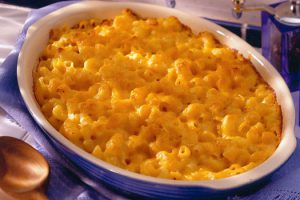 This recipe is for the old-fashioned baked macaroni and cheese, made with cheddar cheese, milk, egg, and a touch of cayenne pepper. This tasty casserole can be served as a main dish or side dish. It can also become the base for numerous variations.
Recipe Makes 6 to 8 Servings
Whatcha Need:
8 ounces elbow macaroni
1 1/2 to 2 cups shredded Cheddar cheese
3 tablespoons butter
1 teaspoon salt
1/8 teaspoon cayenne pepper
1/2 cup milk
1 egg
1/2 to 1 cup buttered fresh bread crumbs (see below)
Whatcha Do:
Boil macaroni in salted water, following package directions. Drain under running cold water.
Cover bottom of a 2-quart baking dish with layer of macaroni, a layer of cheese, bits of butter, salt and pepper. Continue layers until all ingredients are used, ending with a cheese layer.
Whisk milk and egg together, pour over the top, cover with buttered bread crumbs, and bake in a 350° oven for 25 to 35 minutes, until browned and cooked through.
Process 2 slices of bread in the food processor; toss with 2 to 3 teaspoons of butter.