Country Polenta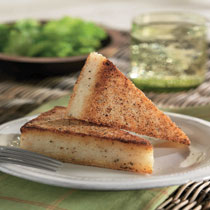 Makes 12 servings.
Whatcha Need:
2 cups Cream of Wheat cereal
1 quart water
1/3 cup grated parmesan cheese
1/4 teaspoon black pepper
1/4 teaspoon crushed red pepper
1/4 teaspoon dried basil leaves
3 tablespoons oil
Whatcha Do:
Prepare 1 cup as directed on package. Add cheese and seasonings; mix well.
POUR cereal mixture evenly into 1 parchment-lined half hotel pan; cover. Refrigerate at least 2 hours or until set.
Toast remaining 1 cup cereal in large sauté pan or skillet on medium-low heat until golden brown, stirring frequently. Remove from heat.
Cut chilled polenta into 12 triangles. Coat with toasted cereal.
Preheat griddle to 375°F. Cook polenta triangles in hot oil on griddle for 3 to 4 minutes on each side or until crisp and golden brown on both sides. Serve immediately.
TIP: Prepared cereal mixture can be poured into pans as directed, tightly covered and refrigerated up to 24 hours before cutting into triangles. Coat with toasted cereal; continue as directed.
Recipe adapted from creamofwheat.com